13 May 2023
Ekoï Challenge Distance S
Do you like the short triathlon with quick transitions?
Or do you just want to do the first triathlon of your life?
You watch D1 races with envy.
You just wish you had the pleasure of doing the same race as the pros just after the pros! Awesome, right?
Then come on May 13 to Fréjus to take the start of the triathlon S Open with drafting which will take place on the same course and in the same conditions as the races of D1 at 18h.
– Dafting authorised
– Open to all aged 16
– Bibs limited to 100 bibs maximum
**Important rules**
– Road bike without extension
– No chrono bike
– 20 spokes minimum wheel
– No ATVs
– Used to driving in bike peloton.
Caution: Competition pass required! More information
Departure in Mass Start in 1 lap of 750 m with an Australian exit.
Same course and in the same conditions as the D1 races at 18:00.
The running will be flat but technical with a sequence of passage of acronym and asphalt 100% in the nature base. In a preserved setting in the middle of nature, a very playful running with 2 lap of 2,5 km.
Why you should participate

A natural and protected playground, the nature base is a tailor-made spot to experience an exceptional sport event

A true festival of triathlon open to all: from kids to beginners, including the best international elite D1

A swim in the Mediterranean Sea in crystal clear water, with your feet in the fine sand, you will love the festive atmosphere of the mass start under the sound of the DJ of the Frejus Challenge: adrenaline guaranteed

The hinterland of Var will delight you on the cycling part, an exceptional relief mixing flat parts in the sea, the magnificent Bougnon pass, you will cross the fields of vineyards of the best wines of the south of France, what to feast your eyes …

To conclude, you will run in the nature base in a natural and protected site, very playful course and 100% flat and technical.
Watch the FFTRI teaser of the GRAND PRIX DE TRIATHLON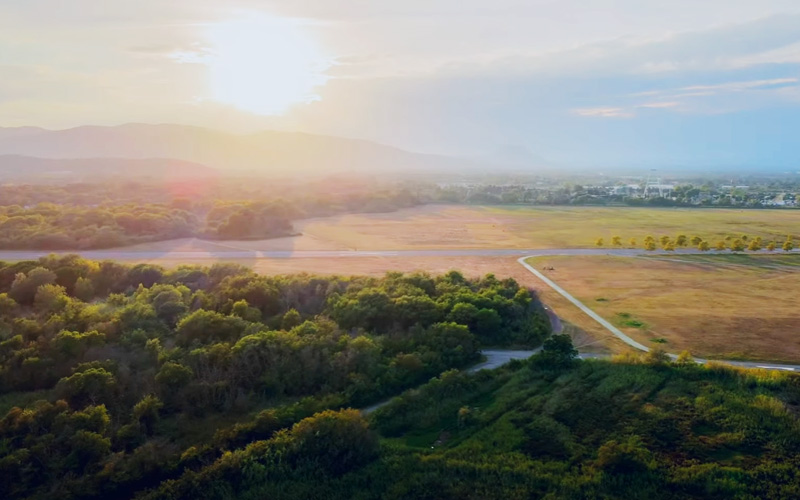 Challenge Fréjus puts its bags on the Francois Leotard Nature base, a real green lung of the Côte d'Azur with its public beach open all year round.
A 1.5 km long beach of fine sand, bordered by a promenade lined with palm trees or overhung by a path.
The François Léotard nature base is a 135-hectare space of freedom on the seafront.
85 hectares are protected natural areas for outdoor enthusiasts, the rest being used for sports and leisure activities.
Fréjus is a French town located in the Var department in the Provence-Alpes-Côte d'Azur region.
Address of the venue of the Frejus Challenge
Base Nature François Léotard,
1196 Boulevard de la Mer, 83600 Fréjus
Saturday 13 May 2023
| Time | Activity | Location |
| --- | --- | --- |
| 7:00 | Kids / S / M / L / RM Opening and Welcome Bag Recovery + Chip | Exhibitors village |
| 8:30 | Departure Challenge Kids 6-9 years | Plage base nature Francois Léotard |
| 9:00 | Departure Challenge Kids 10-11 years | Plage base nature Francois Léotard |
| 10:00 | Departure Youth Challenge 12-15 years | Plage base nature Francois Léotard |
| 9:00 | Opening village exhibitors | Exhibitors village |
| 11:00 | Podium challenge Kids and Youth | Exhibitors village |
| 13:00 | Departure Grand Prix D1 women fftri (registration on the FFTRI website) | Beach base nature Francois Léotard |
| 16:00 | Departure Grand Prix D1 men fftri (registration on the FFTRI website) | Beach base nature Francois Léotard |
| 17:00 | GP FFTRI Podium | Exhibitors village |
| 17:15 | Opening and entry of bicycles Parc S | Parc (S) Distance |
| 17:45 | Closure of the bike park S | Parc (S) Distance |
| 17:50 | Briefing Challenge Distance S | Beach base nature Francois Léotard |
| 18:00 | Challenge S Departure | Beach base nature Francois Léotard |
| 20:00 | Podium S | Exhibitors village |
| 20:00 | Closing village exhibitors and closing bib and welcome bag | |

No bibs will be given on Sunday 14 May morning</span >

Sunday 14 May 2023
| Time | Activity | Localition |
| --- | --- | --- |
| 5:30-6:30 | Entry of bikes Park Middle Distance (L) | Middle Distance Parc (L) |
| 6:50 | Briefing Challenge Middle Distance (L) | Beach base nature Francois Léotard |
| 7:00 | Départ Challenge Middle distance (L) Pro Male | Beach base nature Francois Léotard |
| 7:05 | Départ Challenge Middle distance (L) Pro Female | Beach base nature Francois Léotard |
| 7:10 | Départ Challenge Middle distance (L) Age Group & relay | Beach base nature Francois Léotard |
| 7:00-8:00 | Entry of Bicycles Park Olympic Distance (M) | Middle Distance Parc (M) |
| 8:20 | Briefing Challenge Olympic Distance (M) | Beach base nature Francois Léotard |
| 8:30 | Departure Challenge Olympic (M) | Beach base nature Francois Léotard |
| 9:00 | Opening village exhibitors | Exhibitors village |
| 13:00 | Podium Olympic Distance | Exhibitors village |
| 15:00 | Podium Middle Distance | Exhibitors village |
| 19:00 | Closure of exhibitor village | |